---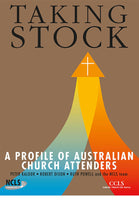 Brief:
Taking Stock is the companion volume to Build My Church (1999).
Those who attend are the basic resource on which the churches build their future. How ready are they for the new century?
Taking Stock explores this by listening to the voices of the Catholic and Protestant attenders, through the 1996 NCLS and 1996 CCLS, as they reflect on their experiences of church life. It also listens to church leaders, asking how well equipped they feel for the task ahead.
Description:
Authors: Peter Kaldor, Robert Dixon, Ruth Powell, the NCLS Research Team
Citation:
Kaldor, P., Dixon, R. & Powell, R. (1999) Taking Stock: A profile of Australian church attenders. Adelaide: Openbook.