---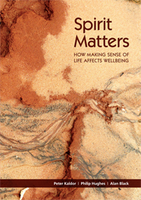 Brief:
Spirit Matters presents the results of unique research into how Australians make sense of life.
Written in an accessible style for a wide audience, this book counts and compares those making use of religious frameworks, alternative spiritualities, and largely secular approaches.
Description:
How we make sense of life is both diverse and changing.
Spirit Matters then takes us deeper, pinpointing ways in which these different approaches can affect personal wellbeing and the common good. This study shows that some approaches are more helpful than others.
How we make sense of life does matter.
Authors: Alan W. Black, Peter Kaldor, Philip J. Hughes
Citation: