---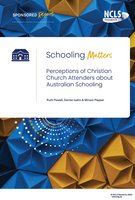 This report draws on Australian National Church Life Survey results collected in 2021 and 2022 about church attenders' choice of schools and their views about the impact of school on their own lives.
Citation: Powell, R., Iselin, D, & Pepper, M. (2023). Schooling Matters: Perceptions of Christian
Church Attenders about Australian Schooling. NCLS Research Report 46. Sydney: NCLS Research.
Authors: Dr Ruth Powell. Dr Darren Iselin, Dr Miriam Pepper