---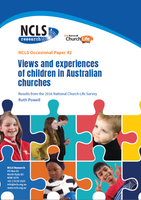 Brief:
In the 2016 NCLS churches were also offered the option of a survey designed for children aged 8 to 14 years who attend local church activities.
This survey asked child attenders about their experience of the church and their involvement.
Description:
This report starts with a demographic profile of the child respondents:their age, gender and country of birth. It also present results on a range of indicators of wellbeing in various areas of life such as faith formation and discipleship,building relationships with each other, building capacity for mission and building communication between children and adults at church.
Children who attend local churches are part of the Church of today, not tomorrow. The 2016 National Church Life Survey (NCLS) gave children aged 8 to 14 years an opportunity to share their views a experiences, through the optional Child Survey.
Authors: Ruth Powell
Citation:
Powell, R. (2020). Views and experiences of children in churches, Occasional Paper 42. Sydney: NCLS
Research.