---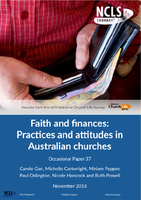 Brief:
This paper uses data from the 2016 National Church Life Survey to examine financial giving practices in Australian churches.
Description:
Financial giving matters to local churches and denominations and is also of interest to researchers. The 2016 National Church Life Survey included a range of questions on the following topics:
The finances of local churches, including their current financial situation, budgeting and their sources of income;
Attitudes of church attenders to money and various money-related issues, including how these issues connect with faith and Christian teachings, and attenders' desires for resources to help connect faith and money; and
Church attenders' financial giving to their local church and other causes, and the factors that influence their decisions to give.
Major findings include: half of churches had a stable financial base; the most commonly nominated main source of income for churches was offerings from attenders; and acceptance of offerings via direct debit has been growing, with eight in 10 churches doing so in 2016.
Authors: Carol Gan, Michelle Cartwright, Miriam Pepper, Paul Oslington, Nicole Hancock, Ruth Powell
Citation:
Gan, C., Cartwright, M., Oslington, P., Hancock, N. & Powell, R. (2018). Faith and finances: practices and attitudes in Australian churches. NCLS Research Occasional Paper 37. Sydney: NCLS Research.