---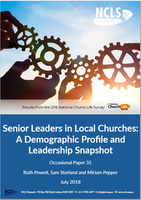 Brief:
This paper uses data from the 2016 National Church Life Survey to profile senior leaders in local churches in Australia, on a range of demographic measures.
Description:
Church leadership varies from church to church and denomination to denomination. The 2016 National Church Life Survey (2016 NCLS) provides a basis to learn more about people in leadership in local churches in Australia.
This paper provides a snapshot of the characteristics of local senior leaders, their practices in ministry and how they feel they are going, together with selected comparisons with results from the 2011 NCLS. The paper covers:
A demographic profile of leaders (age, gender, marital status, country of birth, educational attainment, ministry qualifications and other occupations in addition to their ministry role);
Leaders' main areas of ministry, and comparisons with their ministry preferences;
Leaders' areas of strength, and ministry areas where leaders feel they need more training and equipping; and finally
Leaders' feelings of stress and their sense of effectiveness in their role.
Authors: Ruth Powell, Sam Sterland, Miriam Pepper
Citation:
Powell, R., Pepper, M. & Sterland, S. (2018). Senior Leaders in Local Churches: A Demographic Profile and Leadership Snapshot. NCLS Research Occasional Paper 35. Sydney: NCLS Research.