---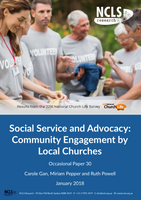 Brief:
This paper uses data from the 2016 National Church Life Survey to chart the activities of local churches in social service and advocacy in their surrounding neighbourhoods.
Description:
Local churches are a significant collective expression of religion in Australia. They are places of worship and religious practice and are also defined by their alignment with religious beliefs and teachings. Because they are embedded in the social fabric of local neighbourhoods, they are also assets to the wider community.
Local churches are networks of people which nurture values and practices that contribute to the well-being of their members and the communities they serve, providing both emotional and material support. As organisations, local churches ascribe to the value of helping others, and can play an important role in meeting social and welfare needs through the provision of social services.
The paper provides a breakdown of activities of social service, advocacy and community engagement of local churches in Australia.
Key findings indicate that churches in Australia are actively involved in various social services and social action activities, with 89% of local churches running some form of activity at least occasionally and 71% at least monthly. Larger churches are able to run a wider variety of services/activities more frequently and there are some variances in the types of services/activities offered. Catholic churches are the most likely to run at least one of the activities monthly or more often, whereas Pentecostal churches tend to have the broadest range of activities.
Authors: Carol Gan, Miriam Pepper, Ruth Powell
Citation:
Gan, C. Pepper, M. & Powell, R. (2018). Social Service and Advocacy: Community Engagement by Local Churches. NCLS Research Occasional Paper 30. Sydney: NCLS Research.