---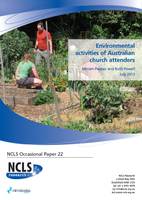 Brief:
Environmentally aware action is a part of life in Australia. The 2011 National Church Life Survey paints a picture of the environmental actions of church attenders by drawing on the results of a small sample survey of approximately 1,300 attenders. Household/consumer environmental activities, such as purchasing environmentally friendly products and reducing water and energy consumption, were being undertaken by a majority of attenders in 2011, especially older people. Civic environmental actions, such as participating in an environmental event or contacting a member of Parliament about an environmental issue were much less common. Denominational differences in environmental actions of church attenders were few.
Description:
Authors: Miriam Pepper, Ruth Powell
Citation:
Pepper, M. & Powell, R. (2013) Environmental activities of Australian church attenders .NCLS Research Occasional Paper 22. Sydney: NCLS Research.