---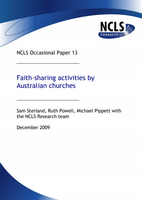 Brief:
Christianity has a strong outward focussed aspect. Jesus calls his people to go, and make disciples of all nations (Matthew 28:19, 20). Willing and Effective Faith-sharing is one of the three outward focussed NCLS core qualities of healthy churches. In this paper we examine faith sharing among attenders and churches in Australia.
Description:
Authors: Sam Sterland, Ruth Powell, Michael Pippett
Citation:
Sterland, S., Powell. R., & Pippett, M., (2009) Faith-sharing activities by Australian churches .NCLS Research Occasional Paper 13. Sydney: NCLS Research.