---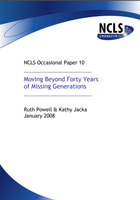 Brief:
Around forty years ago the age profile of church attenders matched the wider community, but since the 1960s, younger generations went missing. Latest results from the 2006 National Church Life Survey confirm the size of the current gap between church and community, as well as denominational variations. This is 'old news' but the need for effective responses are more urgent than ever. In the next two decades, older and younger generations will need to negotiate through a significant period of transition. Perhaps the time is coming for the gap to begin to close.
Description:
Authors: Ruth Powell, Kathy Jacka
Citation:
Powell. R., & Jacka, K., (2008) Moving Beyond Forty Years of Missing Generations. NCLS Research Occasional Paper 10. Sydney: NCLS Research.