---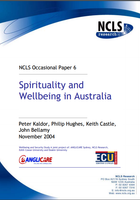 Brief:
This paper analyses data from the 2002-03 Wellbeing and Security Study. It explores whether religion and wider spirituality have positive or negative influences on the wellbeing both of individuals and of society at large.
Description:
The Wellbeing and Security Study undertaken by Anglicare (Diocese of Sydney), NCLS Research, Edith Cowan University and Deakin University was designed to examine the nature and levels of security and insecurity in Australian society, and their relationship to wellbeing. The results discussed here are based on a random sample survey of 1514 Australian adults.
Authors: Peter Kaldor, Philip Hughes, Keith Castle, John Bellamy
Citation:
Kaldor, P, Hughes, P, Castle, K and Bellamy, J (2004) Spirituality and Wellbeing in Australia. NCLS Research Occasional Paper 06. Sydney: NCLS Research.