---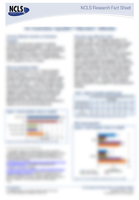 Brief:
This fact sheet examines Australian Protestant1 churches' support for workers in other countries, either through a mission agency or directly based on the 2016 National Church Life Survey (NCLS). There is a long tradition of churches supporting work overseas, whether missions of evangelism and ministry training, works of practical service and empowerment, or endeavours comprised of both. Historically, support that does not go through an agency has been relatively low, but some are of the view that this has been rising for some time. This could have important implications for mission agencies, churches, and workers themselves.
Description:
Authors: Sam Sterland, Nicole Hancock
Citation:
Sterland, S. & Hancock, N. (2017) Support for Overseas Workers by Australian Protestant Churches in 2016, NCLS Research Fact Sheet 17009. Sydney:NCLS Research.