---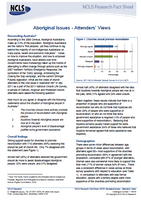 Brief:
According to the 2006 Census, Aboriginal Australians make up 2.5% of the population. Aboriginal Australians are the nation's 'first peoples', yet they continue to lag behind the majority of non-Indigenous Australians on many social, health and economic indicators. Views on how to improve this situation, and how to empower Aboriginal Australians, have altered over time. Governments have increasingly taken up the mantle of attempting to effect change through actions such as the 2007 Northern Territory Emergency Response, the symbolism of the Sorry' apology, embracing the Closing the Gap campaign, and the current Stronger Futures legislation. What are the views of church attenders to this vital issue in Australian life?
Description:
Authors: Miriam Pepper, Ruth Powell, Steve Bevis
Citation:
Powell, R., Pepper, M., & Bevis, S. (2014) Aboriginal issues – Attenders' views, NCLS Research Fact Sheet 14019. Sydney: NCLS Research.