---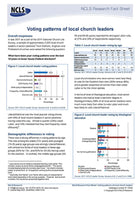 Brief:
In late 2011 as a part of the 2011 National Church Life Survey, a sample of approximately 2,000 local church leaders in senior positions from Catholic, Anglican and Protestant churches were asked the following question: What have been your voting patterns over the last 10 years in lower house Federal elections?
Description:
Authors: Miriam Pepper, Ruth Powell, Nicole Hancock
Citation:
Pepper, M., Powell, R., & Hancock, N. (2013). Voting patterns of local church leaders, NCLS Research Fact Sheet 13008. Sydney: NCLS Research.