---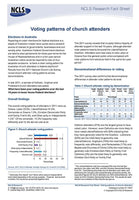 Brief:
Reporting on voter intentions for federal elections is a staple of Australian media news cycles and a constant source of interest to governments, businesses and civil society alike. Australian Federal Government elections are held to elect parliaments for three-year terms for the House of Representatives and in a ten-year period Australian voters could be required to vote on four separate occasions. Is there a clear voting pattern for Australian church attenders in federal elections? Results from the 2011 National Church Life Survey reveal church attender voting patterns across denominations. In late 2011, a sample of Catholic, Anglican and Protestant church attenders was asked: What have been your voting patterns over the last 10 years in lower house Federal elections?
Description:
Authors: Miriam Pepper, Ruth Powell, Nicole Hancock, Steve Bevis
Citation:
Bevis, S., Pepper, M., Powell, R., & Hancock, N. (2013). Voting patterns of church attenders, NCLS Research Fact Sheet 13007. Sydney: NCLS Research.