---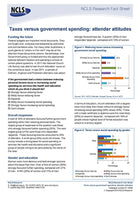 Brief:
Federal budgets are important moral documents. They are fought over, analysed and dissected by politicians and commentators alike. For many other Australians, a quick glance at "what's in it for me?" may be all the attention these documents receive. Nevertheless, how Government policy is funded and how the appropriate balance between taxation and spending is arrived at remain potent questions. In 2011 the National Church Life Survey was able to test church attenders' views on this contentious issue.
Description:
Authors: Miriam Pepper, Ruth Powell, Nicole Hancock, Steve Bevis
Citation:
Bevis, S., Pepper, M., Powell, R., & Hancock, N. (2013). Taxes versus government spending: attender attitudes. NCLS Research Fact Sheet 13006. Sydney: NCLS Research.