---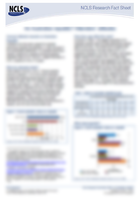 Brief:
Christian churches in many Western nations face a variety of challenges to health and vitality. Some sample indicators of widespread forces of social change that have impacted on religious vitality include:
a decline in Christian religious affiliation,
a decline in church attendance,
the absence of younger generations in many mainstream denominations.
This Fact Sheet outlines some evidence for each of these indicators and draws the conclusion that there is a need for revitalization and innovation in church life.
Description:
Authors: Ruth Powell
Citation:
Powell, R. (2010). Why Innovation Is Needed In Church Life, NCLS Research Fact Sheet 10008. Sydney: NCLS Research.