---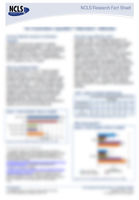 Brief:
Changes across the religious landscape in recent decades have lead a wide range of people, including thinkers and practitioners to invest in thinking about the future shape of church life. Local church leaders and attenders seek ways to help their churches be more vital. Many churches are trying new approaches.
What are the attitudes of Australian attenders to new initiatives? Have these attitudes changed in the past decade?
Description:
Authors: Ruth Powell
Citation:
Powell, R. (2010). Australian Attender Attitudes To New Initiatives, NCLS Research Fact Sheet 10006. Sydney: NCLS Research.