---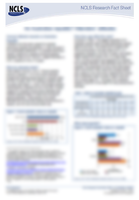 Brief:
Around one third (35%) of Australians do not believe in the resurrection, one third (34%) are uncertain and the remaining 31% believe it was an actual event in history. Extremes in these views are seen in the youngest and highest age brackets. Higher proportions of women believe in the resurrection and those university educated are more unlikely to believe it was an actual event.
Description:
Authors: Ruth Powell, Kathy Jacka Kerr
Citation:
Evans, A. (2009) [computer file], The Australian Survey of Social Attitudes, Australian Social Science Data Archives, The Australian National University, Canberra.