---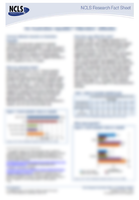 Brief:
Many Australians agree there is something beyond that makes sense of it all.
Almost half of Australians (44.6%) agree that there is something beyond this life that makes sense of it all, with a third neither agreeing or disagreeing (33.5%) and around a quarter disagreeing with this statement (21.8%). Young people aged 15-29 are the least likely to agree. There are many who say they are not religious but who consider there to be a spiritual dimension to life. Church attendance is strongly related to the belief in something beyond.
Description:
Authors: Ruth Powell, Kathy Jacka Kerr
Citation:
Powell, R. & Jacka, K. (2010). Something beyond this life. NCLS Research Australian Spirituality Fact Sheet 1. Sydney: NCLS Research.