---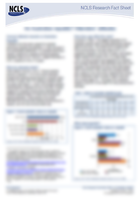 Brief:
NCLS Research has identified 12 Leadership Strengths that contribute to effective and sustainable leadership. These strengths interact and build upon each other, and will help in building healthy communities, negotiating challenging situations and growing new directions.
They revolve around a capacity to engage with others, to connect sensitively with people and work with them to find an owned vision, and seek to develop shared directions.
They involve a willingness to create a secure base in the here and now, a stable platform on which to build which enables people to make things happen.
Description:
Authors: Peter Kaldor, Ruth Powell
Citation:
Kaldor, P. & Powell, R. (2009). Leadership Strengths of Senior Church Leaders, NCLS Research Fact Sheet 09005. Sydney: NCLS Research.