---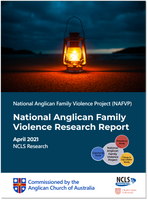 Description:
This report provides an overview of results from three studies that make up the National Anglican Family Violence Project (NAFVP), undertaken between 2019 and early 2021. The aim of this research project is to investigate the nature and prevalence of intimate partner violence (IPV) among those with a connection to the Anglican Church of Australia. Full results from across this project are presented in detailed reports for each study:
• NAFVP Prevalence Study Report,
• NAFVP Clergy and Lay Leaders Study Report, and
• NAFVP Experience Study Report.
Authors: Ruth Powell & Miriam Pepper
Citation:
Powell, R. & Pepper, M. (2021). National Anglican Family Violence Research Report: for the Anglican Church of Australia. NCLS Research Report. NCLS Research.
This report can be downloaded from the Anglican General Synod website.
Click to download: National Anglican Family Violence Research Report