---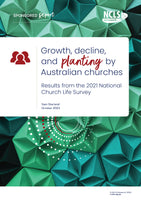 This report draws on the Australian National Church Life Survey (NCLS) to describe aspects of local church growth or decline and church planting in 2021 and 2022. It draws on historical information about church sizes and new information provided by local church leaders about their church size and experiences with planting of new churches.
Author: Sam Sterland
Citation: Sterland, S. (2023). Growth, decline, and planting by Australian churches: Results from the 2021 National Church Life Survey. Research Report 49 (2nd Ed). Sydney: NCLS Research.