---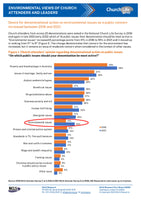 Desire for denominational action on environmental issues as a public concern increased between 2016 and 2021.
Church attenders from across 20 denominations were asked in the National Church Life Survey in 2016 and again in 2021/2022 which of 14 public issues their denomination should be most active in. "Environmental issues" increased 8 percentage points from 11% in 2016 to 19% in 2021 and it moved up in ranking from 11th to 9th.
This change demonstrates that concern for the environment has increased, but it remains an issue of moderate concern when considered in the context of other issues.
Citation: Bosman, C. & Pepper, M. (2023). Church attender and leader views on the environment. NCLS Research Fact Sheet 23003. Sydney: NCLS Research.