---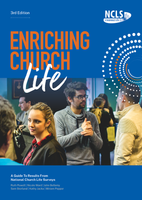 Enriching Church Life is designed to help you understand and foster vitality in your local church. It shows how the results of the National Church Life Survey can be the stating point for positive and enriching change.
This third edition of Enriching Church Life outlines:
key research findings on health and growth in churches, based on national research
updated results from the 2016 National Church Life Survey in Australia
denominational comparisons
an overview of religious affiliation, church attendance and church size
inflow and outflow patterns of church attenders
a demographic profile of church attenders compared to the wider community.
This book is an ebook pdf and is a companion publication to the NCLS Church Life Profile and Church Life Survey Workbook.
Authors: Ruth Powell, Nicole Ward, John Bellamy, Sam Sterland, Kathy Jacka and Miriam Pepper.
Citation:
Powell, R., Ward, N., Bellamy, J., Sterland, S., Jacka, K., & Pepper, M. (2022). Enriching Church Life: A guide to results from National Church Life Surveys for local churches (3rd ed.). Sydney, NSW: NCLS Research.