---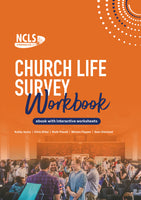 The Church Life Survey Workbook aims to help your church to explore and understand your results from a Church Life Survey. It offers processes to help your leaders and your church to respond to your results and form future direction. 
It contains practical ideas and tools to evaluate, communicate and act on a church's survey results. It includes planning processes, workshops and worksheets.
The Workbook is part of the Church Life Pack of resources that churches receive after completing a Church Life Survey. It is a companion document to your Church Life Profile of survey results.
Gaining the feedback of church attenders via a survey is the first step of the process. Taking some actions based on the results is essential to completing the process. This Workbook will help you to evaluate your results, communicate your insights and findings, then act on them for the future.
Authors: Kathy Jacka, Chris Ehler, Ruth Powell, Miriam Pepper and Sam Sterland.
Citation: Jacka, K., Ehler, C., Powell, R., Pepper, M., & Sterland, S. (2022) Church Life Survey Workbook- ebook. Sydney, NSW: NCLS Research.