---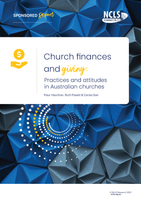 This report draws on the Australian National Church Life Survey (NCLS) to describe financial aspects of local churches in 2021 and 2022.
It also provides insight into the views of local church leaders about the financial future of their church and the impact of the pandemic. Further, this report present church attender views about giving as well as their practices of giving to churches and charities.
Citation: Hourihan, F., Powell, R. & Gan, C. (2023). Church finances and giving: Practices and
attitudes in Australian churches. NCLS Research Report 44. NCLS Research: Sydney.