---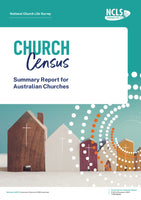 This report presents an overview of the church operations and activities of Australian churches. It includes key indicators across 12 themes. 
These themes include: Church Structure and Locality; Leadership Structure and Staff; Attendance: Numbers and Ethnicity; Church Worship Services; Online Delivery by Local Churches; Faith Formation; Activities for Young People; Mission and Outreach; Global Focus; Disability Inclusion; Finances and Property; and Safety and Compliance.
The report is based on data collected from local church administrators or leaders who completed the Church Census survey. In Australia, Church Census surveys were completed on behalf of 3385 local churches, as part of the 2021 National Church Life Survey, mostly completed in the first half of 2022. The data in this report has been weighted where appropriate to represent all local churches.

Citation: Powell, R., Sterland, S., Jacka, K., Gan, C., Pepper, M. & Hourihan, F. (2023). Church Census Summary Report for Australian Churches. NCLS Research Profile 2303. Sydney: NCLS Research.