---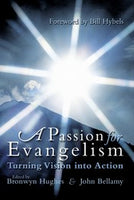 Brief:
A Passion for Evangelism - for church leaders who want to ignite this passion in peoples' hearts
The findings presented here reflect the experience of many churches across Australia and America. Wherever you are leading a local church you'll be encouraged by the research and practical experience you read about here. I'm confident it will help your church reach more and more people for Christ and grow them into fully devoted followers of Christ.' – Bill Hybels, Senior Pastor, Willow Creek Community Church, South Barrington, Illinois, USA
Description:
A Passion for Evangelism has been written for church leaders who have a passionate vision to reach lost people with the gospel and who want to know how to ignite that same passion in the hearts of people across their churches.
The research and practical leadership experience presented in the book suggest that any church—large or small, urban or rural, financially stable or stretched—can develop a passion for evangelism. The book describes what motivates people in any local church to work together to live out their common vision for outreach.
It's not enough to simply put a copy of the vision on the church noticeboard. It takes far more than a powerful sermon, a planning day or some other single event. There's a process that needs to be followed to turn passive acceptance into passionate action.
This book unpacks this process—one that has been identified through church research. It also presents the personal stories of church leaders from many denominational traditions who have applied the research in their own situations.
Dr Bronwyn Hughes is Director, Mission Research and Development, with the Bible Society in Australia. She has a breadth of experience that includes media evangelism, organisational communication and Australian church research.
Dr John Bellamy is a senior researcher with NCLS Research. He is also a research associate of Edith Cowan University's Centre for Social Research. Over the past decade his writing and research have contributed to a better understanding of the relationship between Australian churches and the wider community.
Authors: Bronwyn Hughes, John Gray, Tim O'Neill, Sharon O'Neill, Phillip Mutzelburg, Mark Edwards, Norman Nix, Christine Hewitt, Mark Conner, John Bellamy
Citation: